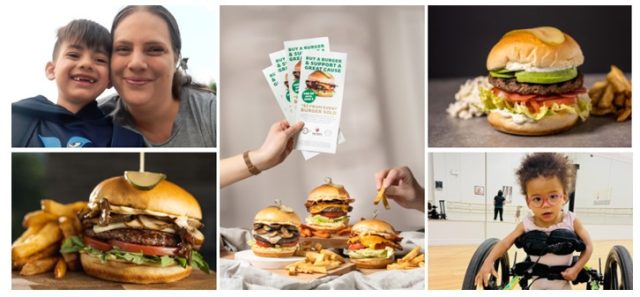 In keeping with a longstanding tradition, White Spot is proud to once again support children and youth with special needs throughout B.C. From February 26 to March 5, $2 from every burger sold for dine-in or takeout at White Spot across B.C. and R+D Kitchen by White Spot in Burnaby will be donated to Variety – the Children's Charity for a total donation of up to $100,000.

During the fundraiser by the beloved, born-in-B.C. restaurant chain, burger lovers can show their support by choosing from 10 iconic burgers on White Spot's menu including its famous Legendary Burger, Monty Mushroom Burger, Bacon Cheddar Beef Burger, BC Chicken Burger, and two limited-time-only features, Bacon Wrapped Cheddar Burger and Wagyu Cheddar Burger — all made from 100% fresh Canadian beef — as well as the West Coast Salmon Burger and the Avocado Impossible Burger. At R+D Kitchen by White Spot, guests can enjoy White Spot burger favourites as well as signature creations like the House Wagyu Burger and the Truffled Mushroom Wagyu Burger.
White Spot has been a champion for Variety – the Children's Charity since its inception in 1966. Variety's annual fundraiser, the Variety Show of Hearts, launches this year during Global News Hour at 6 on Thursday, February 23, and culminates with the 57th Annual Variety Show of Hearts Telethon airing on Global BC and streaming online at GlobalNews.ca/bc on Sunday, February 26 — the first day of the White Spot Variety fundraiser — from 1 to 5:30 p.m.

"Over the 57 years we've been fundraising for Variety, White Spot has raised almost $2 million for children with special needs across B.C.," says White Spot President Warren Erhart. This fundraiser gives our guests the opportunity to enjoy a great tasting burger while making a difference. In addition to funds raised from the sale of menu items, thousands of White Spot employees have volunteered their time during the telethon over the years. "Giving back to the community was a core value for our founder, Nat Bailey, and we're proud to carry the tradition forward," he adds. 

It's all for an incredibly worthy cause. Each year, Variety provides direct help to children and youth by funding needs that range from adaptive, medical and mobility equipment, to specialized therapies, educational support, mental wellness counselling and private autism and psychoeducational assessments. 

"We are deeply grateful for White Spot's partnership since the beginning, helping to ensure that more kids with complex health care needs have the chance to reach their hopes and dreams," says Andrea Tang, CEO of Variety. "We believe that every child has the right to live in an inclusive world. The critical support of our donors and partners like White Spot help to transform children's lives enabling independence, mobility, and social inclusion."

White Spot Hospitality brands continue to show strong community involvement through ongoing fundraising efforts for organizations and initiatives across B.C. Most recently, White Spot was recognized as the recipient of the Rix award for Engaged Corporate Citizenship, as presented by the Greater Vancouver Board of Trade, in recognition of the company's depth and length of community relationships. The company's community spirit was even referenced in its recent award for "Regional Company of the Year" in Foodservice and Hospitality's 33rd annual Pinnacle Awards.
Details
$2 from every burger sold (including Hamburger Pirate Paks) for dine-in and takeout at all White Spot restaurants in B.C. and R+D Kitchen by White Spot from February 26 to March 5 will be donated to Variety to a maximum total donation of $100,000. Not valid for delivery, Triple O's, BC Ferries or with any other promotional offer.