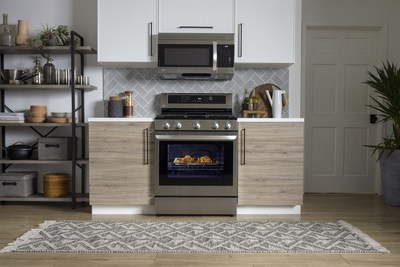 The LG Air Fry InstaView ThinQ® Range is now available in Canada, offering healthier alternatives to the indulgent fried foods commonly enjoyed by Canadians in the coming colder months. The complete cooking solution integrates an Air Fry feature within its 6.3-cubic foot capacity oven. The complete range eliminates the need for small air fry appliances that contribute to kitchen clutter and has the benefit to create healthier dishes compared to traditional deep frying.
According to a recent survey commissioned by LG Electronics Canada, 34 per cent of Canadians admit that their eating habits have worsened since the stay-at-home recommendations started earlier this year. Another 35 per cent reveal they have indulged in fried food during this time. Those aged 18-34 are most likely to give into fried food cravings (46%), closely followed by 35 – 44-year olds (43%). Regionally, Quebecers were the least likely to admit that they indulged at 22 per cent compared to 39 per cent which was reported by the rest of Canada.
"These days we all crave extra comfort but that can come with a cost to our health" said renown Celebrity Chef and LG Electronics Canada ambassador, Anna Olson. "An air fryer is a great solution for creating healthier versions of the delicious fried foods so many of us love. Plus, having the air fryer built into the range, cuts down on clutter making this an innovative solution for healthy cooking and a more streamlined kitchen."
The LG Air Fry InstaView ThinQ® Range allows you to create delicious, guilt-free dishes right in your oven. LG's Air Fry feature circulates hot air at high speeds for crunchy-on-the-outside, juicy-on-the-inside goodness that's evenly cooked throughout. And because this means no preheating is required, meals go from fridge to table faster than conventional ovens.
With a focus on innovation and convenience, LG's InstaView technology makes it easy to monitor your dish while it's cooking. Knocking twice on the oven's glass door conveniently turns on the interior oven light eliminating the need to open the oven door which can slow down the cooking process, or fumble for the light button with dirty hands. What's more, the EasyClean® and Self Clean® options help to maintain a clean oven for maximum performance every time it's used. Without the use of any chemicals, EasyClean® can remove light food residue in approximately 10 minutes at low heat while Self Clean® employs high heat to eliminate tougher splatter from the oven's interior.
For true connectivity, the LG Air Fry InstaView ThinQ® Range can be controlled and monitored from any room in the house by connecting to the Google Assistant and Amazon Alexa smart speakers.
"Canadians crave comfort and convenience, especially this year" said Ashley Audisho, Senior Marketing Manager, LG Electronics Canada. "The LG Air Fry InstaView ThinQ® Range is designed with that in mind- healthier cooking methods, with quality results, and innovation to make your life easier and connect you to what you enjoy."