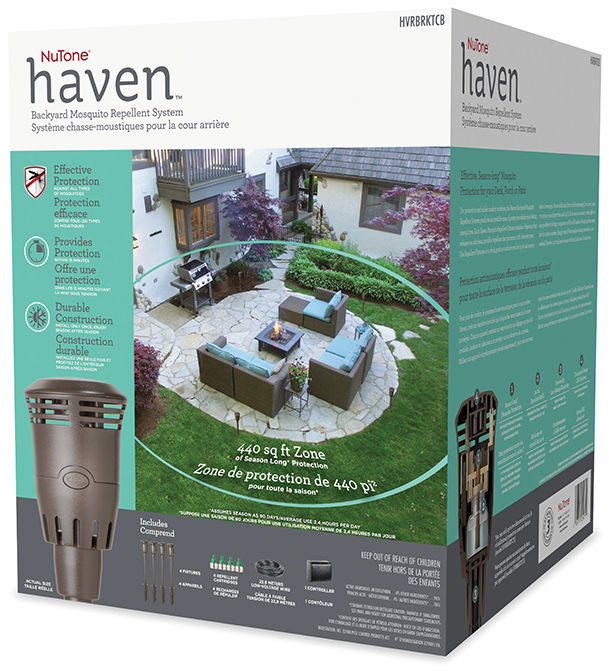 This summer, why not regain control of the backyard and enjoy all the hard work that's been put into it, by keeping mosquitoes at bay using NuTone's new Haven mosquito repellent system! Knowing that mosquito hunting is a hard summer battle to win, NuTone has developed a protection system allowing fine weather enthusiasts to relax and enjoy their backyard all summer long*! Easy to use, NuTone Haven provides a 440 sq. ft. protection zone against all types of mosquito using a permanent system with four landscape fixtures. This invisible barrier, tested under extreme conditions in Thailand, is THE summer solution to transform your backyard into a summer paradise. What's more, NuTone Haven is designed as a durable, summer and winter weather- resistant construction. So, once installed, all you have to do is enjoy every minute of the fine weather, year after year!
Simple and effective technology for permanent comfort
Each fixture is totally safe for people and their pets, containing a vaporizer that releases an odourless, invisible and silent repellent. An additional 110 sq. ft. of coverage is also possible by adding another fixture, for a total of 550 sq. ft. Powered by a low-voltage cable, NuTone Haven is simple to install in five easy steps. The system reaches optimal performance within 15 minutes of activation and provides over 216 hours of mosquito protection. Saying goodbye to mosquitoes for the entire summer is as easy as turning on a light*. Simply turn off the repellent when protection is not needed. After four hours, the system switches itself off automatically by way of the timer. The NuTone Haven system is guaranteed for three years and works as needed, day or night, for a hassle-free summer outdoors!
A full range for mosquito protection
The NuTone Haven four-pack includes:
4 fixtures
4 repellent refills
a 65-foot low-voltage cable
a controller
NuTone Haven is available at the following locations: Lowe's, RONA, Réno Dépôt and Ace. An expander kit as well as a 4-pack repellent refill are also available.
For more details and to view the videos, including an installation video: www.nutone.ca