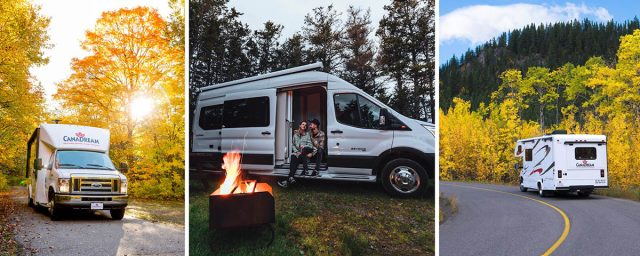 Fall is just around the corner, and there's no better way to embrace the changing seasons than by taking a road trip. With fewer people on the roads and less crowded campgrounds, own the great outdoors and take advantage of some inspiring offers from CanaDream RV.

Travellers can book an RV rental with CanaDream this fall and enjoy a free night on their journey. Embark on an autumn adventure with a minimum duration of six nights between now and drop off by November 30th, 2023, and receive the first night free. A wide range of vehicle types meets all travel styles and needs, from the Maxi Travel Camper with diesel truck designed to "rough-it" in five-star style to the Maxi Plus Motorhome, a spacious and well-appointed chalet on wheels with a fully equipped kitchen, comfy living area and beds for four adults and three children.

Another incredible autumn offer is the RV Relocation Special, a one-way rental from Vancouver to Calgary or Edmonton, Calgary to Edmonton, or Montreal to Halifax or Toronto, is currently starting at just $29 per night for various units. By relocating an RV from one designated station to another, guests can enjoy a leisurely one-way RV journey with massive savings.

CanaDream RV offers the freedom to create personalized itineraries, explore hidden gems, and make memories to last a lifetime. With a boutique hotel on wheels, travellers can relish the journey and enjoy the beauty of Canada at their own pace. The journey begins at any CanaDream station located in Vancouver, Calgary, Edmonton, Toronto, Montreal, or Halifax. Here are some fall highlights, from festivals to seasonal splendour in Canada's National Parks:

Larch Hikes in the Rockies
Witness the stunning transformation of larch trees as their vibrant green needles turn shimmering gold. Must-visit spots include the Larch Valley and Sentinel Pass hike near Lake Louise and Healy Pass near Banff. RV pick-up Calgary.

Niagara-on-the-Lake
Just a short drive from Toronto, Niagara-on-the-Lake offers enchanting fall experiences, including leaf peeping along the Niagara River Parkway and wine tasting at award-winning wineries like Peller Estates Winery. RV pick-up in Toronto.

Jasper Dark Sky Festival – October 13 – 22, 2023
The Jasper Dark Sky Festival highlights stargazing and renowned speakers in Jasper National Park, the world's largest accessible dark sky preserve. RV pick-up is in Edmonton. Stay at Wapiti Campground, a CanaDream Club Partner.

Québec's Laurentian Mountains
An hour away from Montreal, discover a landscape defined by mountains, rolling hills, vibrant foliage and shimmering lakes and rivers. The colours are brightest at the end of September; download the Quebec government's fall foliage map to track the changing colours. RV pick-up in Montreal.

Nova Scotia's Cabot Trail
Nova Scotia has unmatched views of autumn shades; get immersed in the season on the Cabot Trail, a 300-kilometre loop weaving through Cape Breton Highlands National Park. RV pick-up is in Halifax.

Cornucopia Whistler – November 9-19, 2023
Indulge in autumn's abundance at Whistler, BC's celebration of food and drink. Let CanaDream RV be your home base for signature tastings, the culinary stage series and food and drink seminars. Pick-up in Vancouver and stay at Riverside Camping and RV Resort, a CanaDream Club Partner.

CanaDream offers a range of vehicles perfect for a fall road trip and everyone who might want to tag along. From the sleek Deluxe Van Camper to Maxi Motorhomes that can comfortably accommodate a multi-generational getaway,  units feature well-equipped kitchens, hotel-grade mattresses and linens and even a Nespresso machine for leisurely mornings. To book a fall escape and secure a free night with CanaDream RV or take advantage of the relocation deal, head to canadream.com to learn more about the offers, terms and conditions.

The CanaDream Club provides access to over 500 private campgrounds to discover the best places to stay and play. Additionally, CanaDream offers discounts from 1,800 valued tourism and attraction partners. Looking for more inspiration from the experts? CanaDream's trip planner tool simplifies itinerary planning for a stress-free adventure, and their Festival Finder reveals the best celebrations across Canada in every season.