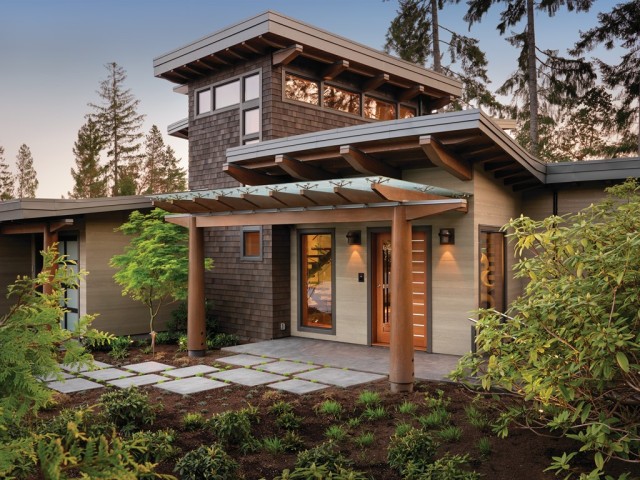 Youbou. BC is a wonderful community, nestled along the north shore of Cowichan Lake and it's here that a unique summer home was custom built. The house is called Hawk's Nest, and it is a seasonal retreat for a family that loves summer living and all that lakefront living offers.
Jason Powell Construction, KB Design, and Nygaard Interiors joined forces on this summer residence, which offers 4,621 square feet of interior living space, not including the spacious garage or exterior terraces. Hawk's Nest is a modern summer home, designed, built and finished in the West Coast contemporary style; featuring four bedrooms and six bathrooms on three levels.
Built on a 14,000 square foot (1/4 acre) lot, it was always about the location. From the front drive, the size of the home is concealed, as is one of the best design features of this property. One of the biggest lot challenges for home designer Keith Baker was the seeming lack of privacy. With neighbours quite close on either side, Baker focused the layout of the home so it continually draws you to the waters edge; level grade at the front door with a narrow front façade, and then opening up, and expanding to three spacious levels, all with views to Cowichan Lake.
Each of the three levels at Hawk's Nest was intended for a different purpose of living.
Togetherness: The main or entry level is the family living spaces with an open floorplan that boasts a large living room, centre plan dining space and modern chef's kitchen. On this floor, you cannot help but be connected to and interacting with others. The warm wide plank oak flooring and substantial exposed wood ceiling beams create visual flow through the heart of this summer home. In the living room, a wonderful wood burning fireplace with a split rustic/modern personality anchors one wall, in perfect balance with the giant wooden pillar opposite that leads your eye into the eating area. The kitchen, with its worktop island, built-in appliances and ample cupboard space, was made for clan-size long weekends, and the food supplies that come along with it. Thanks in part to the slightly curved walls and south west tilting of the kitchen; your eye is instinctively drawn through the expansive wall of glass windows and doors, to the deck outside and the lake beyond.
Solitude: The upper level is the owners retreat, and what a master space it is! A huge walk-in closet is tucked away, leaving the main bedroom area open and visually uncluttered with expansive lake vistas that can be viewed without getting out of bed, or from the private third level terrace. The ensuite bathroom offers a definitive West Coast aesthetic with warmth and minimalism echoed in the sleek double vanity by Hunter Woodworking, private water closet and oversized soaker tub that looks out to Cowichan Lake. A lovely bonus is the expansive glass shower with a chic sliding barn-style door, custom crafted in glass and polished metal, by Excalabor Glass.
Community: The lower level is the busiest part of the home; and the largest of all three floors. Three guest bedrooms, each with a private ensuite bathroom, and a media room can be found on this level, along with a huge entertaining lounge that sports a pool table, spacious bar and unique wine storage wall that was specially designed for this space by Hunter Woodworking. The garage, which you enter from the level grade driveway, has a hydraulic lift that stores cars, jet skis and other toys, lowering them down to additional storage below.
Connecting all three levels inside the home is a magnificent stair tower, constructed of wood and steel and glass. It is a marvel in residential engineering, and truly a stand-alone work of art. It offers form and function, allows natural light to move through the levels, and creates seamless harmony in the home.
"A home should be functional or beautiful, or both. When you can achieve that, I think that's when a home really starts to serve at a much deeper fundamental level. I think this house does that."  – Keith Baker, KB Design
The back of Hawk's Nest is brilliance in outdoor living. Jason Powell Construction outdid themselves with the crafting of the three terraces, bringing to life Keith Baker's design vision. The curved overhangs (awnings of sorts) with West Coast beam and frosted glass design are beautiful as well as practical—providing shade and keeping rain away from the house. The third level deck is the smallest and offers the most privacy for the homeowner. The outdoor space off the living room is large, comfortable and perfect for entertaining with a side staircase that leads down to the largest entertaining terrace with barbecue, fire pit and hot tub. Incidentally, the hot tub also has a hydraulic lift, so it pops in and out of the deck floor easily for servicing.
Leaving the house, a very short tree-lined pathway leads to a very long dock, built and installed by Dan's Precast Inc. that sits upon Cowichan Lake. The homeowner's water toys, including speed boat for waterskiing and jet skis, spend the summer season here, and will certainly be put to good use.
Jason Powell could not name just one part of the home that was his favourite; he felt the entire home build was a success that he is very proud of, stating that "the homeowner was very happy with the finished lake house." Keith Baker is particularly fond of the spectacular staircase and credits a lot of the interior flow and cohesion to interior designer Sandy Nygaard, who undoubtedly understood the design vision and according to Baker, "brought a brilliant sense of harmony to the house."
Every room has water views; every level opens up onto a spacious terrace overlooking the lake. Hawk's Nest was built to take advantage of its waterfront location, and to afford its occupants a lifestyle that isn't so much about luxurious living as it is about family time and individual rejuvenation.