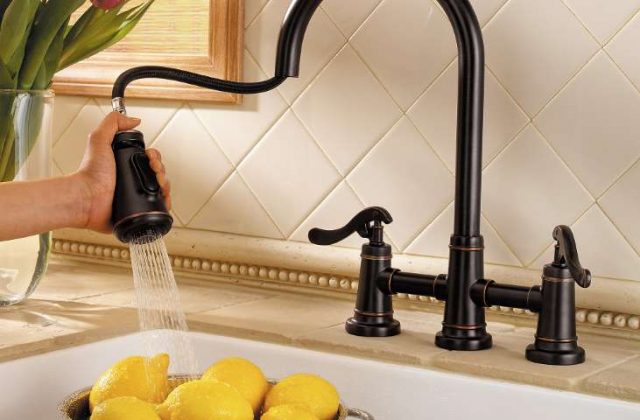 Not only is where meals are prepared, but it tends to be a central gathering point, whether it is the family in the morning before a busy day at school and work, or friends getting together to share some laughs and good times.
And when it comes time to renovate the kitchen space, it is project that could cost thousands and thousands of dollars, and put your cooking area out of commission for several weeks on end. If you are going to make that commitment to get the kitchen of your dreams, you want to do it right. This isn't the kind of project you want to undertake on a regular basis.
When undertaking the task of building your dream kitchen, Pfister offers the following advice:
Know Your Style — Before starting, know what style you are trying to achieve in your kitchen. This will influence all the pieces you are going to put in, from the appliances to the lights to the fixtures. Without this vision, you could end up with a haphazard look. For example, you don't want gleaming stainless steel appliances in a rustic kitchen with lots of natural wood deep browns. That design calls for a more subdued and classic look — black stainless steel will blend, as will fixtures finished in matte black or Tuscan bronze.
Be Wary of Trends — Just like fashion, some elements of a kitchen come in and out of style. But when investing in a kitchen, there are certain pieces where you want to with more a timeless look, as you will be living with that look for many years. Think countertops, cupboards and backsplash. While cupboards can be painted, it's no small task; neither is replacing the countertop or backsplash.
Think About Convenience — There is the standard "triangle configuration" that places your fridge, stove and sink in a way that makes moving between the three easy. But more can be done to make your kitchen more convenient. Incorporate a larder or pantry cupboard to keep needed ingredients close by. Touch-free faucets enable you to turn the water on and off with a wave of your hand. Save space by mounting your microwave under the counter or, even better, in an island. Mount a pot filler over the stove to save carrying pots full of water all over the place.
Spoil Yourself — Some things are not need to have, but they are nice to have. Think a wine fridge in the island, or two sinks — a big country-style sink in the bank of cupboards and smaller bar sink on the island. These little conveniences will make your kitchen that much more inviting.
When it comes to your style, not just any faucet will do. The faucet it among the most high-traffic places in your home. Every resident uses it, and many visitors do as well. As a focal point, it can carry your style, or make your kitchen feel disjointed. Pfister offers the following for consideration in your design:
For more information on Pfister Faucets, please visit pfisterfaucets.ca.