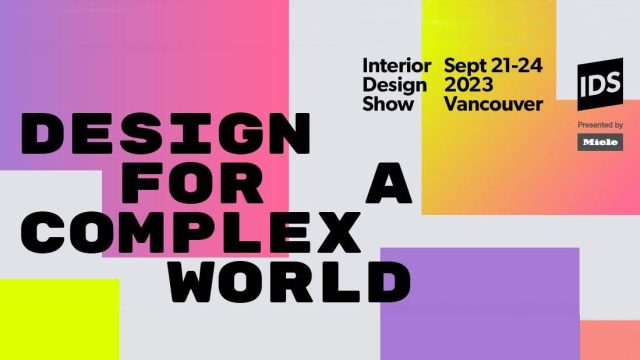 From September 21-24, the Interior Design Show Vancouver (IDS Vancouver) will return to the Vancouver Convention Centre West. The Pacific platform for all things design, IDS Vancouver will feature a plethora of new products and furniture, world-renowned designers, and avant-garde concepts from North America and beyond. 
This year's event theme, Moving Parts, aims to inspire and challenge attendees. Presented by Miele, IDS Vancouver 2023 will explore how contemporary designers are creating, sourcing, producing and distributing products in this new landscape. It will highlight innovative and sustainable thinking for this ever-changing design world.  
"We're thrilled that IDS is making its return to Vancouver this September, celebrating innovation, transformative design and forward-thinking creators," says Will Sorrell, National Director at IDS Vancouver. "Our program for Professional Trade Day will explore our 2023 theme, Moving Parts, highlighting industry leaders, local designers, and global brands."
The IDS Vancouver Professional Trade Day programming will take place on Friday September 22, 9am – 6pm, featuring industry-leading keynote speakers and seminars. Please see below for key highlights. 
Trade Day Keynote Speakers
Featuring notable speakers from across the design industry and beyond will take to the IDS Vancouver main Caesarstone Stage, delving into thought-provoking topics including:
The Future of Design on the West Coast:
Kicking off AZURE Magazine Trade Talks, this panel will welcome industry experts to discuss the future of design on the West Coast.
Speakers: Ming-Lee Yuan (Olson Kundig), Brent Comber (Brent Comber Studio), Andrea McLean (Andrea McLean Studio), Bao-Nghi Nhan (McKinley Studios)
Ligne Roset & 50 Years of Togo, Presented by Livingspace:
Celebrating the 50th anniversary of the Togo, first designed by Michel Ducaroy in 1973 for Ligne Roset, this talk on the Caesarstone stage will explore the legacy of the design house and their plans for the future.
Speaker: Simone Vingerhoets-Ziesmann (Executive Vice President, Roset USA Corporation)
Architectural Keynote: Wellness-Focused Design:
As part of the AZURE Magazine Trade Talks, this panel will explore topics such as design innovation, sustainable practices, design contributions to the climate crisis, regenerative and circular practices, and more.
Speakers: Cedric Burgers (Burgers Architecture) and Ellie Niakan (Introba)