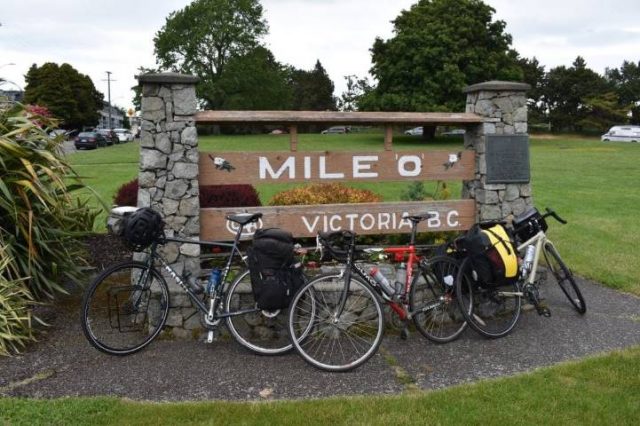 A group of adventure bicyclists will begin their cross-Canada odyssey to reconnect, restore and rebuild our communities in Victoria, B.C., on May 15, 2021, as planned after assessing recent progress in the battle against the COVID-19 pandemic.
The group is seeking like-minded adventurers to join all, or part, of the journey as we rebuild from the pandemic. In total, the trip will cover 8,000 kilometres over four months, but riders who are unable to do the full ride are invited to join for a day, week or stage of the tour.
Group leader Rick McFerrin said organizers have carefully assessed the latest data on the pandemic and concluded the ride can proceed safely under a set of clearly defined health protocols. Detail on the measures the group will be taking can be found on the ConnecTour website.
"Our number one concern is the safety of our guests and of the communities we visit," said McFerrin. "We are confident that, with the precautions we are taking, this amazing experience can be done with minimal risk."
A report issued by the McKinsey and Co. international research firm forecasts that under current trends the United Kingdom and North America will experience "progress toward a transition to normalcy during the second quarter (April-June) of 2021." The report also predicts that the U.K. and North America will "most likely" reach herd immunity in the third quarter of the year, although it notes that the rise of variants could affect the timeline.
"We … will likely see many aspects of social and economic life return to the prepandemic normal," the report states.
British Columbia recently strengthened its travel and gathering limitations in response to a rise in COVID cases in that province. Those limits run until May 13, pending further developments. In past, infection rates have dropped sharply after restrictions are imposed.
In its Travel Industry update on April 9, Destination Canada President and CEO Marsha Walden underscored the organization's eagerness to get Canadians travelling this summer intra-provincially. "As conditions improve, we will be inspiring Canadians to plan their Canada vacations….and helping them build their confidence in travel," Walden said.
The ConnecTour core group will travel at the speed of life across Canada this summer, arriving in St. John's, NL, by mid-September. Picking up co-tourers along the way, the group will avoid major highways when possible, and head to the secondary roads to learn more about this country's rich mosaic.
"Seeing your friends and family travelling is a very powerful confidence builder," said Walden.
The full route can be seen here.
Seasoned journalists Doug Firby and Lisa Monforton will be the chief storytellers, highlighting remarkable local people in a series of blogs, and with photographs and video. The project aims to fuel a national conversation on who we are and to celebrate the ordinary heroes who make us unique.
"We are delighted that this transformational journey can go ahead as planned," said Lisa Monforton, ConnecTour's media liaison.
The group is inviting both corporate and individual sponsorship. Corporations interested in supporting this cause, are invited to contact us at info@connectour.ca. Individuals who wish to offer financial support are invited to visit our Patreon page here.
Further information about the tour, and registration options, are available on the ConnecTour website.