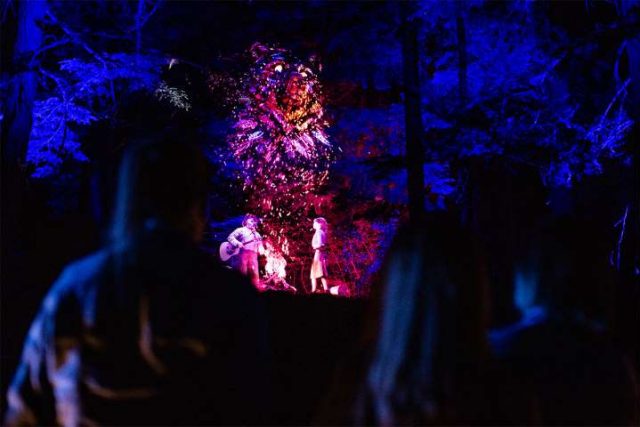 After dazzling visitors with a mystical multimedia wonderland last summer, the award winning Vallea Lumina returns to Whistler's Cougar Mountain again this summer season. Created by Montreal-based Moment Factory and brought to Whistler by The Adventure Group, the immersive night walk officially launches on June 7 with select showtimes beginning May 18.
Situated just ten minutes from Whistler Village, Vallea Lumina is staged amid lush coastal rainforest against a scenic panorama showcasing mountain and valley views. The magic starts at nightfall with guests transported to the site via a complimentary shuttle departing from Whistler Village. Once there, the audience steps into another world that transforms the night with vibrant lights and videos, emotive soundscape and stunningly crafted scenography. Throughout the 60-minute adventure, visitors are encouraged to play, explore and engage with their surroundings as the story – which follows the mysterious trail of a father-daughter duo in search for an enchanted hidden valley – unfolds around them.
Vallea Lumina is produced by multiple award-winning Moment Factory, a Montreal-based entertainment studio renowned for crafting immersive environments for clients such as Arcade Fire, the National Football League and Sagrada Familia in Barcelona. Following the successful execution of several night walk experiences across the globe, Moment Factory partnered last year with The Adventure Group – Whistler's premiere adventure and activity operator – to stage an incredibly successful first year of Vallea Lumina. This year, the event has undergone subtle enhancements to heighten the experience, such as improved audio, more visual effects and an increased shuttle service.
"We were blown away by the overwhelmingly positive response to Vallea Lumina last year." said Joey Houssian, founder and CEO of The Adventure Group. "Working with Moment Factory to bring this fantastical world to life has been an incredible adventure, and we are thrilled to join forces once more to mesmerize audiences from around the world. Vallea Lumina truly must be seen to be believed, and we can't wait to fascinate and delight audiences like never before."
For more information about Vallea Lumina and to buy tickets, visit www.vallealumina.com or call 1.833.800.8480.