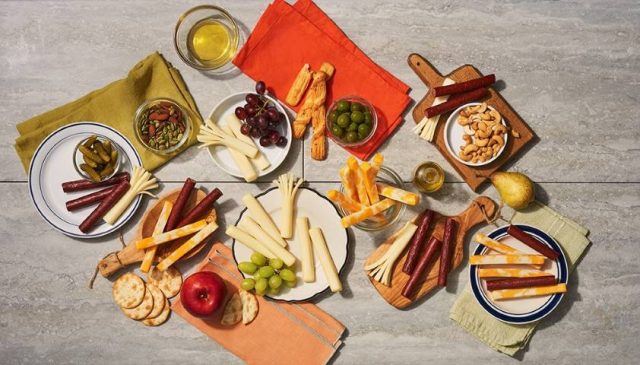 Check out the latest line-up from Armstrong Cheese. These new products, including Real Cheese Snacks, Combos and two new cheese slices, are perfect for busy people seeking versatile and delicious options. 
On your next grocery store visit, head straight to the dairy aisle to scoop up Armstrong's high-protein meat and cheese snacks. The new Marble Farmers' Cheese Sticks, Naturally Smoked Ham Sausage and MOZZARELLA & NATURALLY SMOKED SALAMI STICKS are sure to satisfy stomach rumblings in seconds. With neat, individual packaging, these grab-and-go snacks are ideal for busy mornings or eating on the run.
Looking to elevate all of your meals? Discover the new cheese slice flavours – MEGA Thick Marble Cheddar and Mexican Fiesta Marble Jalapeno – they're sure to add new life to those same-old sandwiches.
If you're looking for ways to step up your snack time, Armstrong's cheeses can be a lifesaver for busy families, helping to elevate after-school snacks like cheese and crackers, charcuterie boards, or in fun-for-the-whole-family meals like shepherd's pie or mac and cheese. Parents love our cheeses for their versatility and ease-of-use, and the little ones love them because they're unbelievably tasty! It's no wonder Canadians of all ages crave Armstrong.