Every dad is unique in his own way.
His own sense of style, interests, jokes (OK, maybe all dad jokes are lame, but funny nonetheless). But there also those shared qualities that make a father a good dad — a teacher, a guide, a comforting presence.
It is not unlike Canadian whisky.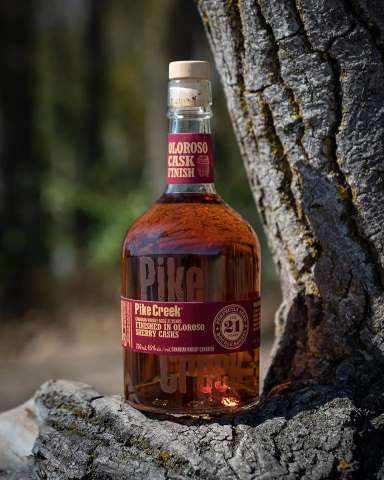 Each is unique in its own way, with different blends, barrels and techniques creating distinctively unique flavour profiles. But to be a Canadian whisky, it must be made from grain grown on a Canadian farm, be fermented, aged and distilled in Canada, aged in barrels for a minimum of three years and have an alcohol volume of at least 40 per cent ABV.
This Father's Day, with all of the economic uncertainty that has come with the COVID-19 pandemic, stay-at-home orders and business closures, there is no better time to gift dad with a truly Canadian product. With a Canadian whisky, the support starts on the farm, through the workers at the distillery and then through the liquor retailer.
And there is a Canadian whisky for every type of Canadian father:
Sports Fan Dad — The Alumni Whisky Series is a line of single-release Canadian whiskies paired with former NHL stars. The latest release features whiskies inspired by Hall of Famers Mark Messier, Yvan Cournoyer and Dave Keon. Previous releases have featured Wendel Clark, Darryl Sittler, Guy Lafleur, Larry Robinson, Paul Coffey and Lanny McDonald.
Mixologist Dad — If dad prides himself on his cocktail-crafting skills, make life behind the bar a bit easier for him with J.P Wiser's Manhattan or Old Fashioned. These ready-to-drink cocktails make it easy to enjoy some of the more popular whisky cocktails of all time.
Whisky Connoisseur Dad — World Whiskies Award Gold Medal-winning Pike Creek Oloroso is a 21-year-old select oak-aged Canadian whisky finished in Oloroso Sherry Casks, creating a complex and luxurious experience. This smooth sipping whisky has hints of vanilla, dried fruit and spices drawn from the casks.
Patriotic Dad — Bringing two great Canadian beverages together, Pike Creek and The Foreign Affair Winery (an Ontario winery based in the Niagara Region) have collaborated on a barrel swap. A 15-year-old Canadian whisky was finished in Ontario VQA Cabernet Sauvignon barrels, giving it a beautiful acorn red colour with notes of dried fruit and a beautiful finish.
The Hiram Walker & Sons Distillery in Windsor has been producing Canadian whisky for longer than Canada has been a country. It is the largest "grain to glass" operation in Ontario, has the largest distillery capacity in North America.