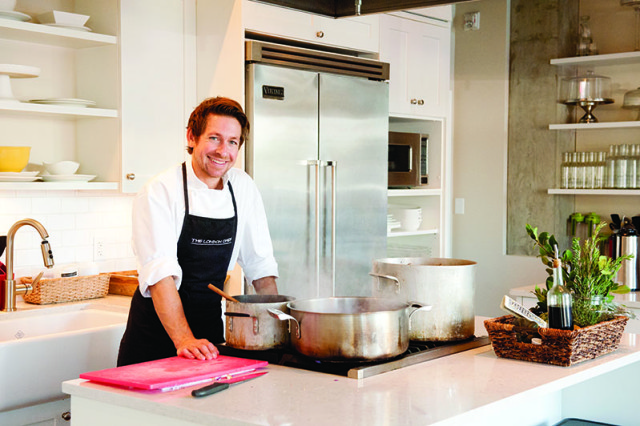 If you are in charge of preparing a holiday feast for your family this year, and want to wow your guests with something other than turkey and stuffing, this Roasted Pork Loin served with Apple Chutney and Braised Red Cabbage is easy to make and will have you on everyone's "nice" list all year long. Make a large enough roast so you have leftovers. This delicious crusted pork is equally sensational reimagined as a thick roast pork sandwich the day after.
SPICED APPLE CHUTNEY
1 MEDIUM ONION, DICED
1 CLOVE GARLC, CRUSHED
1 TSP GROUND CINNAMON
1 TSP GROUND ALL SPICE
2 CLOVES
1 BAY LEAF
1 TSP BUTTER OR OLIVE OIL
4 GALA APPLES, DICED
4 TBSP BROWN SUGAR OR HONEY
2 TSP KOSHER SALT
2 TBSP APPLE CIDER VINAGER
METHOD
IN A SMALL POT, SWEAT ONIONS, GARLIC, SALT & SPICES OVER MEDIUM HEAT UNTIL TRANSLUCEN. ONCE SOFT, ADD IN YOUR APPLES AND SUGAR UNTIL COOKED DOWN TO A DRY CONSISTANCY. DEGLAZE PAN WITH VINEGAR AND COOK UNTIL DRY. COOL AND SERVE.
BRAISED RED CABBAGE
1 HEAD RED CABBAGE, THINLY SLICED
1 TBSP BUTTER OR OIL
1 TBSP KOSHER SALT
ZEST OF 1 ORANGE
1 STARANISE
1TSP NUTMEG
1 CUP, APPLE JUICE
½ CUP RED WINE VENIGAR
¼ CUP WHITE SUGAR
METHOD
IN LARGE POT SWEAT DOWN CABBAGE & SALT UNTIL SLIGHTY TENDER, ADD IN YOUR SPICES & ZEST AND COOK UNTIL AROMATICS ENHANCE. ADD IN JUICE, VINEGAR & SUGAR – COVER WITH PARCHMENT PAPER (CARTOUCHE) COOK UNTIL DRY AND CABBAGE IS VERY TENDER.
ROASTED PORK LOIN WITH THYME & MUSTARD CRUST
1 KG PORK LOIN, DRIED
2 TBSP KOSHER SALT
½ CUP DIJON MUSTARD
1 TBSP CRACKER BLACK PEPPER
1 TBSP PICKED THYME
METHOD
PREHEAT OVEN TO 425F
IN A LARGE FRYING PAN HEAT THE OIL TO MEDIUM HIGH TEMPERATURE; LIGHTLY SEAR ALL SIDES OF THE LOIN UNTIL A GOLDEN BROWN COLOUR IS REACHED, REMOVE FROM PAN AND LET COOL. IN A SMALL BOWL MIX TOGETER SALT, PEPPER, DIJON, AND THYME. USING A SPATULA OR PALATE KNIFE EVENLY COAT THE PORK LOIN IN THE CRUST – PLACE IN A ROASTING PAN ON TOP OF A WIRE RACK OR A FEW CHUNKY ONION RINGS, THIS PREVENTS THE PORK LOIN FROM TOUCHING THE BOTTOM OF THE PAN, AND ENHANCES AIR FLOW SO EVEN COOKING OCCCURS.
IN THE PREHEATED OVEN PLACE THE PORK LOIN ON TOP RACK FOR 10 – 12 MINUTES, ALLOWING THE CRUST TO FORM AND BROWN. DROP THE OVEN TEMPERATURE DOWN TO 375F AND CONTINUE TO ROAST FOR ANOTHER 20 MINS; YOU ARE LOOKING FOR AN INTERNAL TEMPERATURE OF AT LEAST 160F. ONCE INTERNAL TEMPERATURE IS REACHED REMOVE FROM OVEN AND LET REST FOR AT LEAST 10 MINUTES BEFORE SERVING.