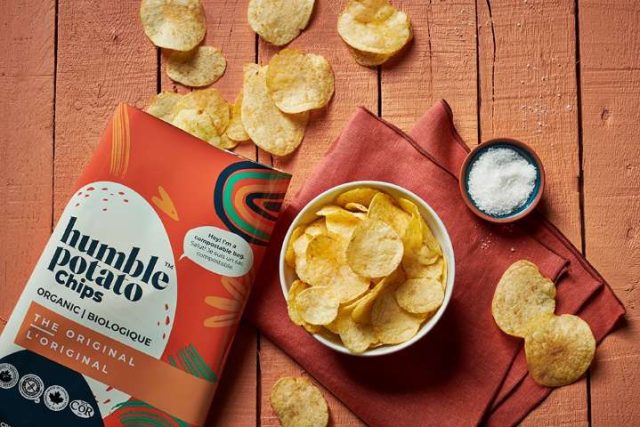 It's no secret that consumers are opting for organic alternatives of their favourite foods. Humble Potato Chips is disrupting the Canadian snack industry with Canada's first plastic-free packaged, organic potato chips. Lightly dusted with seasoning to amplify the taste of the potatoes, Humble Potato Chips aims to help reduce our carbon footprint, one delightful chip at a time.
Created with their son, Wilder, in mind, Alicia and Jeff Lahey launched Humble Potato Chips to help snack lovers give back and pay it forward at the same time. The brand is humbly filling a void in the industry that has been long overdue for an organic and eco-friendly snack option.
Made using only locally-sourced potatoes and cooked traditionally with the skins on to reduce waste, Humble Potato Chips satisfy that chip craving without the post-chip hangover. Whether it's movie night or a midday snack, Humble's signature five flavours, developed by Red Seal certified Chef Reinier Boermans, is a hit with chip enthusiasts of all tastes.
5 DELICIOUS FLAVOURS:
The Original – for the potato purists
Sea Salt & Cider Vinegar – a light, binge-worthy classic
Smokey BBQ – the perfect blend of rich bbq spices and natural smoke flavours
Creamy Dill – a spotlight on homegrown, organic pickles
Honey mustard – sweet and spicy for the tangy taste buds
HUMBLE FAST FACTS:
Packaged in plastic-free, compostable bags
Flavour recipes developed by a Red Seal chef
Certified organic and non-GMO
Locally sourced
Canadian made and owned