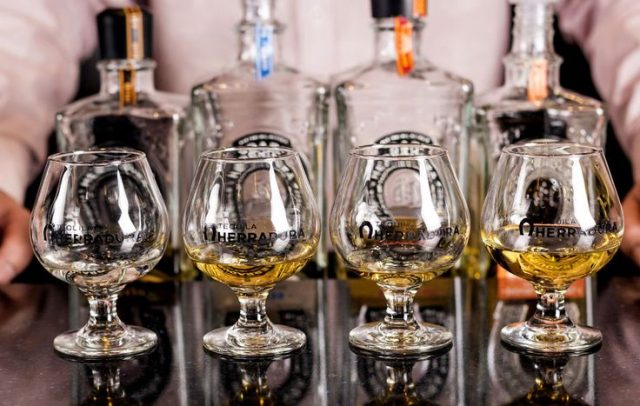 At Santa Fe's La Fonda on the Plaza, a unique tasting flight proves once and for all that tequila isn't just for margaritas and shots. The designer of this flavorful experience is Omar Carmona, the hotel's beverage manager.  Carmona, originally from Guatemala, was first introduced to tequila by his wife's family in Jalisco, Mexico, near Santiago de Tequila, the birthplace of the spirit.  His father-in-law was a jimador (a farmer who harvests agave plants). Carmona began exploring the profusion of distilleries in the area, and today, enjoys sharing his keen knowledge of tequila with bar patrons.
Carmona stocks some 20 different brands of tequila at any given time, which must all be 100% agave, and never a "mixto" (a bastardized version of the real thing that can contain 49% neutral cane spirit.)  The most expensive, Gran Patrón Burdeos Anejo, can retail for upwards of $500 a bottle.
For the special tequila "flight of four" offered in La Fonda's La Fiesta Lounge (which will set you back just $19), Carmona has chosen offerings from Herradura,  whose agave is roasted in traditional clay ovens, fermented with ambient yeast, and aged in well seasoned American oak barrels. Conducted much like a wine tasting, the experience takes tasters from the lighter clear or Blanco, to progressively heavier Reposado and Añejo and finally Double Barrel Reposado.  Exclusive to La Fonda, this limited edition 100% Blue Weber agave tequila is produced under the watchful eye of Maria Teresa Lara, one of the few female maestro tequileras (master distillers) in the world.  Guests who fall in love with this tequila can purchase a signed, numbered 750 ml. bottle to take home from La Fonda's gift shop, Detours, for $75.
Red more about Mexico on DRIFT Travel Magazine