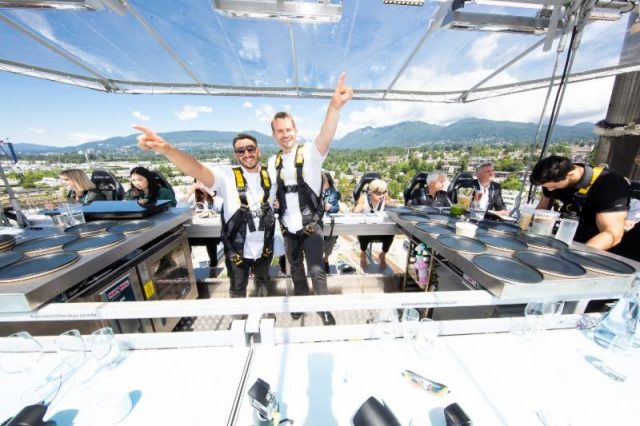 WESTCOAST Sightseeing is pleased to announce a new location for its Dinner in the Sky Canada experience. Launching August 4 and running through September 3, Dinner in the Sky West Vancouver will offer a thrilling and delicious dining experience from scenic Ambleside Park. Opening week coincides with West Vancouver's always popular Harmony Arts Festival, August 3 to 12.
"Every view of Vancouver is spectacular, so we wanted to offer guests a new sky-high perspective of the North Shore mountains, Lions Gate Bridge, Stanley Park and the breathtaking Georgia Straight for the month of August to build on the rave reviews and success of our opening North Vancouver location," said Robert Safrata, CEO of WESTCOAST Sightseeing.
Chef Ambassador, Ned Bell and Executive Chef Evan Elman will continue to evolve the Dinner in the Sky Canada menu to showcase summer's micro-season offerings, anchored in delicious, locally inspired food and drinks for a suite of unique elevated dining experiences.
Dinner in the Sky West Vancouver will offer fabulous brunch, lunch, happy hour, early- and sunset-dinner experiences during several lifts starting at 11 am though until 9pm.
Ned Bell Special Events offer elevated dining experiences with Chef Ned Bell in person on the custom-designed platform kitchen, preparing and serving your three-course dinner, preceded by sparkling wine and canapés. A copy of Ned Bell's best-selling cookbook "Lure: Sustainable Recipes from the West Coast" is also included.
Dinner in the Sky West Vancouver will also accommodate corporate and private events including weddings. For more information, visit dinnerintheskycanada.com/experiences.