The Poconos are known for outdoor activities and enjoying nature, so it's no wonder that hiking is big here. If you're headed to the Pocono Mountains for a vacation, here are some hiking trails you just have to check out.
Bushkill Falls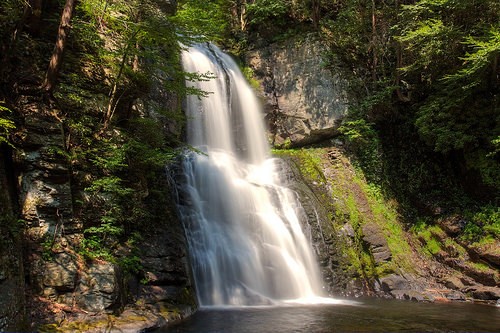 Image via Flickr by Ravi_Shah
There's nothing better than beautiful waterfalls at the end of a hike, and Bushkill Falls delivers. Considered by many to be the Niagara Falls of Pennsylvania, this is one popular hike. Because there are four paths leading up to the falls, you can choose the toughness of the hike that works best for you, including the most basic hike that only takes 15 minutes and requires no climbing.
Tobyhanna State Park
Here you'll find 10 miles of trails. Lakeside Trail is 5.1 miles and is an easy trail for most hikers. Part of the hike is on a paved road, and there are those in wheelchairs who have completed it. In total, it should take about 2.5 hours to complete the trail. The best part about this hike is the view of Tobyhanna Lake.
If you're looking for something that's more of a challenge, head to Frank Gantz Trail. It's 3.2 miles long, and the most demanding part of the trail is where you need to hop rocks, so it's best to wear good hiking boots. The hike takes about three hours and kids are able to complete it  but require close supervision by an adult.
Lehigh Gorge State Park Trail
The best part about this trail is the gorgeous views of the Lehigh River — 20 miles, in fact. This is a physically demanding hike, but as long as you stay on the path, it's not treacherous. For more adventure, sign up to ride a raft down the river.
When you're done with your hike, though, you'll want to lie down and relax as soon as you can physically get into bed. For this reason, find one of the Poconos hotels nearby from HotelPlanner, so it won't take long to get home.
Promised Land State Park
In total, there are 50 miles of hiking trails here. The park itself is 3,000 acres, so there's plenty to enjoy, including overlooks and scenic areas. If you choose to follow Bruce Lake Road, you'll come to a glacier lake. For an easy trail, walk on Conversation Island trail. The best time of year for hiking in this state park is from mid-May to June when the mountain is blooming with rhododendron and mountain laurel. You also might find some wild blueberries in late July.
Appalachian Trail
There are a few trails in Pennsylvania that are along the Appalachian Trail. The trail extends all the way from Baxter State Park in Maine down to Springer Mountain in Georgia. For something between easy and moderate, choose Park Boarder (Totts Gap) at 2.4 miles or Delaware Water Gap at 1.8 miles. For something a bit harder, there's Mount Minsi, which is 1.8 miles. All told, there are 45 miles of Appalachian Trail in the Poconos region.
Just remember, even if you're exhausted from your hike, don't forget to look around and enjoy the amazing views that you just don't get to see every day.