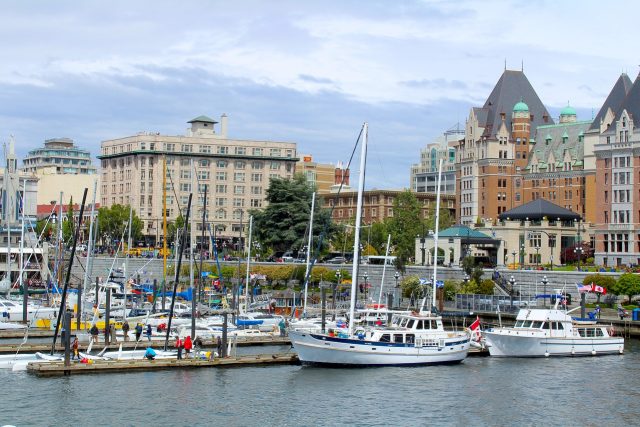 Tourism is booming in British Columbia, generating as much as $15.7 billion in revenue. Both its capital city and the surrounding smaller towns are enjoying significant growth on the hospitality front. According to Marsha Walden, president and CEO of Destination BC, tourism remains #1 among all of BC's primary resource industries. Victoria, in particular, is a great road trip destination regardless of whether you decide to visit for a day or a week.
Not only is it an easy ferry ride away from Seattle and Vancouver, but due to it being a fairly small city, most attractions are within a reasonable distance from each other, allowing you to visit an array of pubs, restaurants, parks and historical monuments in a single day.  With so much to see and do in the city, it is hard to decide exactly where to start. As long as you include the following on your itinerary you are bound to have a tremendous stay in one of the most mesmerizing cities in all of Canada.
Scenic Marine Route 
Driving the 300 – kilometer paved route of the Pacific Marine Circle Route is an entire road trip on its own but own well worth taking. There is no better way than this to experience the rugged Victoria coastline and surrounding areas such as Sooke and the interesting settlement of Jordan River. While the roads are perfectly suited to a normal family car, a vehicle suitable for off-road use will enable you to explore the many nooks and crannies of the coast at closer range. It can take anywhere between one and five days to complete the loop, depending on how often you stop to take in the beautiful scenery or visit one of the countless restaurants, wineries and curio shops along the way. Starting from and ending in Victoria will give you ample opportunity to stop over in some of British Columbia's most fascinating villages, towns, and cities before becoming more closely-acquainted with some of the most interesting attractions the capital city has to offer
Historic Chinatown
No road trip to Victoria will be complete without a visit to Canada's oldest Chinatown district which lies adjacent to the Old Town.  Chinatown was declared a National Historic Site in 1995 and is home to a vivacious variety of shops and businesses. The streets of the neighborhood, including the extremely narrow Fan Tan Alley, are lined with quirky shops, yoga studios, and unique restaurants. One such a restaurant is Wah Lai Yuen where you can grab a huge bowl of soup with dumplings and barbequed pork which makes its way from where it was hanging in the restaurant's window straight to your bowl. Despite all the business premises popping up everywhere, Chinatown has managed to maintain its old-world charm with a lot of preserved Chinese architecture and traditional decorations to be found in and amongst the buildings. The best way to explore this fascinating part of the city is by foot sopark your car or truck near the Chinese quarter and wander through the streets at a leisurely pace.
Victoria Bug Zoo
Whether you are a bug fanatic or not you simply have to stop in at the Victoria Bug Zoo which is located near Victoria's Inner Harbour. The zoo, which first opened its doors in 1997 is home to more than 50 species of fascinating bugs ranging from glow-in-the-dark scorpions and multi-colored praying mantises to hermit crabs and giant walking sticks. All the creatures in the zoo are alive and you will even be allowed to interact with some of them if you are brave enough of course. A knowledgeable tour guide will equip you with an abundance of knowledge about the weird and wonderful world of bugs and might even try and coax you into holding a super-large hairy tarantula. A trip to the bug zoo is bound to be great fun for young and old and an outing that definitely deserves to be documented with a good camera and plenty of social media updates.
One visit to Victoria is all it will take for you to fall in love with the beautiful city with the rich, colorful history. If you don't find the time in your busy schedule to visit all the places on your bucket list don't despair, simply plan a return trip as soon as possible or perhaps even make it an annual tradition to return.