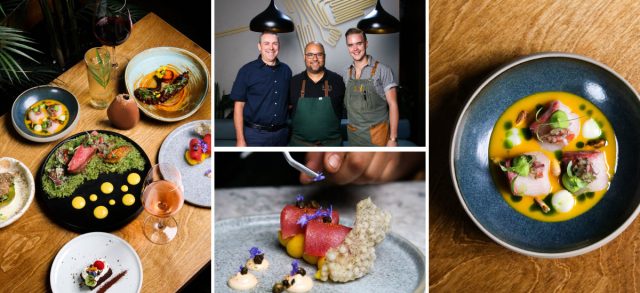 SUYO Modern Peruvian is turning one, and what an incredible first year it has been!  Since opening its doors on August 25, 2022, the innovative SUYO has captured the hearts – and palates – of Vancouverites and visitors alike, winning accolades such as Best New Restaurant and Best Latin Restaurant at the 2023 Vancouver Magazine Restaurant Awards and being listed as one of Eater's essential places to dine in Vancouver right now. 

In its debut year, the intimate and always-exciting Mount Pleasant restaurant has not only earned coveted awards, but has also become one of the city's most sought-after dining and drinks destinations. Thanks to its menu of dishes and cocktails showcasing global influences found in Peruvian food and drink, presented through a contemporary lens, and unparalleled hospitality delivered in a lively setting, a visit to SUYO has become synonymous to holding a passport to a thrilling taste adventure. 

To celebrate its remarkable first anniversary, the SUYO team – including Chef/Partner Ricardo Valverde, General Manager/Partner James Reynolds, Director of Operations/Partner Felix Ng, and Bar Manager Max Curzon-Price – has crafted a seven-course 1er Aniversario Tasting Menu, with wine, cocktail, and spirit pairings, comprising guest favourites from the culinary offerings throughout the restaurant's first year of operations. 

Enjoy a culinary journey that begins with bold and bright Hamachi Tiradito in a Japanese-influenced Nikkei leche de tigre and ends with sweet treats and an optional pairing of a very special house-made digestif. Along the way, feast on visually-stunning and delicious dishes that challenge what you may know about Peruvian fare, or offer you a unique introduction to the compelling cuisine. 

This special dinner menu will be available exclusively to dine-in guests from September 5 to 9, 2023. SUYO's a la carte menu is also available during this time.
SUYO 1er ANIVERSARIO TASTING MENU
Available September 5-9, 2023 | $189 pp | Wine & Cocktail Pairings $89

HAMACHI TIRADITO
avocado, choclo, cancha, chalaca, nikkei leche de tigre
Pairing: Averill Creek Sparkling (2.5oz)

HEIRLOOM TOMATO CEVICHE
heart of palm, garlic breadcrumbs, white gazpacho acevichado, black truffle
Pairing: Canopy – Cazadores blanco, mezcal, bergamot, capsicum distillate, cherry blossom

BLUE FIN TUNA CAUSA
spiced potato, quail egg, sungold tomato, rocoto aioli
Pairing: Bodega Garzon Albariño (2.5oz)

OCTOPUS ANTICUCHERO
yam fondant, chimichurri
Pairing: Painted Rock Rosé (2.5oz)

ARROZ CON PATO
foie gras, cilantro-beer rice, huancaina sauce, sarza criolla
Pairing: De Martino Vigno Carignan (2.5oz)

LUCUMA ICE CREAM
native Peruvian fruit with a butterscotch-like flavour
Pairing: Rafael's Emoliente Amaro – housemade digestivo inspired by chef's father's secret recipe

VALRHONA CHOCOLATE TRES LECHES
opalys whipped ganache, seasonal berries
Pairing: Oro – Bacardi Ocho, granite amaro, propolis, tokaji, brown butter, gold ore

PETIT FOURS