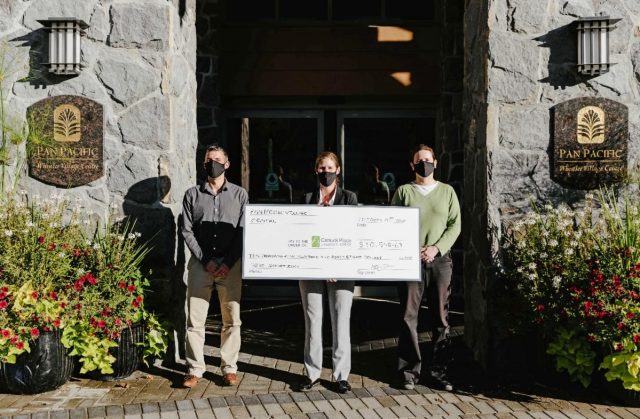 As people and businesses around the world face an uncertain economic future caused by Covid-19, charities like Canuck Place Children's Hospice have experienced a devastating loss of funding – but Pan Pacific Whistler is stepping in to help. Despite a similarly challenging year, the hotel has gifted $10,548.69 to Canuck Place – a fitting tribute, as 2020 marks Pan Pacific Whistler's 10th anniversary as a charity partner, with more than $110,000 donated over the past decade.
This year's required isolation, physical distancing and fears over the spread of COVID-19 have been stressful for everyone, particularly sick children and their families. Children participating in the Canuck Place program – British Columbia's palliative care provider for kids with life-threatening illnesses – present with more than 190 different conditions, and their treatments and progress of disease have continued throughout the pandemic. These children continue to require urgent care, but COVID-19 has halted fundraising events that would typically generate $2 million in revenue for Canuck Place, leading to a 25 percent reduction in budget. With medical respite support, pain and symptom management, recreation therapy, end-of-life care and bereavement counselling offered at no cost to families, the charity relies on donors and supporters more than ever to keep programs running.
Though the dual-property Pan Pacific Whistler likewise experienced revenue loss this year, the hotel's loyalty to Canuck Place has continued with $10,548.69 donated through the Village Centre location's Canuck Place Suite. Here, two bedrooms and bathrooms, gourmet kitchen, and separate living and dining areas welcome up to six guests for resort-style adventure. Visitors are treated to breathtaking mountain views from the oversized private terrace, and enjoy complimentary breakfast delivered straight to the suite – but the best part is that the hotel donates 10 percent of net revenue for every stay in the suite to Canuck Place.
"We're so grateful for partners like Pan Pacific Whistler," said Margaret McNeil, CEO of Canuck Place. "They have been supporters for almost 10 years, raising over $110,000 for essential programming for children and families. The Canuck Place Suite, and the Pan Pacific's commitment to giving back despite the impact of the COVID-19 pandemic, show their commitment and caring."
"We are thankful to be able to support charities like Canuck Place that offer comfort and care to sick children and their families – it's a truly amazing organization," said Julie Lanteigne, general manager of Pan Pacific Whistler. "Like many businesses, we had a tough year, but these kids are dealing with sickness and disease that have affected their entire lives. The least we can do is donate the funding that we can to make their lives a little easier." For more information about donating to Canuck Place, visit canuckplace.org/donate. To learn about the Canuck Place suite, winter offers, or to book a stay at Pan Pacific Whistler's Village Centre or Mountainside location call 1.888.905.9995 or visit panpacific.com/en/countries/canada/whistler.html.