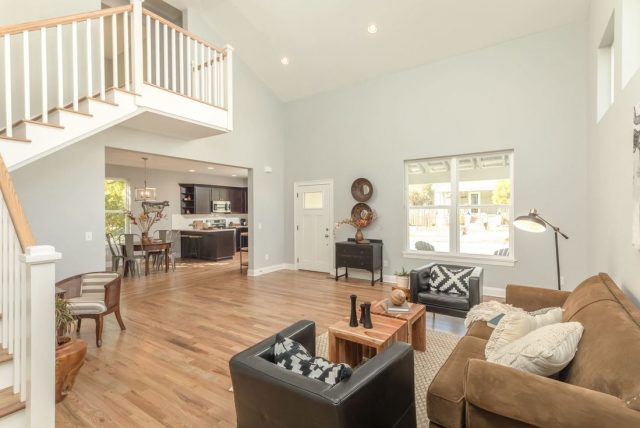 If your home feels dated and you are sick of the sight of the same old décor then you might feel like packing your bags and moving. However, sometimes a bit of home improvement can make all the difference and help you change the way you feel about your home. Here's a few things you can do to give your place a new lease of life.
Get some new furniture
Broken or dated furniture can really give your home a dull and drab feel especially if it doesn't coordinate with other pieces or the décor. If you are good at D.I.Y then you could update wooden or metal furniture with a lick of paint.  Similarly, if you are good at upholstery you can improve chairs, sofas and beds by replacing the fabric or adding some detail. If you don't have the time or skills to do this then treat yourself to some new furniture. It is a good idea to choose styles from the same range and colors that coordinate and complement each other.  Coordinating colors and fabrics create a more finished and bespoke look that is easy on the eyes and appears well thought out and cosy.
Redecorate the walls
A splash of paint or some stylish wallpaper can make all the difference to a room. Sometimes your home needs a complete revamp. If this is the case for you,tackle it one room at a time to avoid major upheaval and disruption.  Decorating one room at a time will also allow you to be more thorough in your approach and think through the decisions. Choose wall colors that tie in with your furniture so you don't have to buy new and if you want to use bright tones or elaborate wallpaper then add a feature wall. This will allow you to inject some color into your room without it being overbearing. If you don't have the right equipment or are stuck for time or expertise when it comes to decorating then why not call in a professional company like Graduate Painting of Bangor. This will ensure you get the finish you want without sacrificing your time or mastering your home improvement skills.
Declutter and rearrange your rooms
Too much clutter can make a room feel cramped and it can even cause stress for some people. It isn't necessary to throw everything you own out but it is worth decluttering every so often. Gather up all your old clothes, check what fits and what doesn't and decide what needs to be binned and what can go to good will. Do the same with ornaments, books and anything else you have accumulated. If you do this every six months it can make a real difference to your home. Where possible, rearrange your furniture so that it opens up the space and try and keep all your clutter in one spot. Put your books on a bookshelf or tidy them away together. Arrange photos into albums and put the best ones in frames and keep everything as organized as possible. It will make your life easier if you need to find anything and it will make tidying much easier.