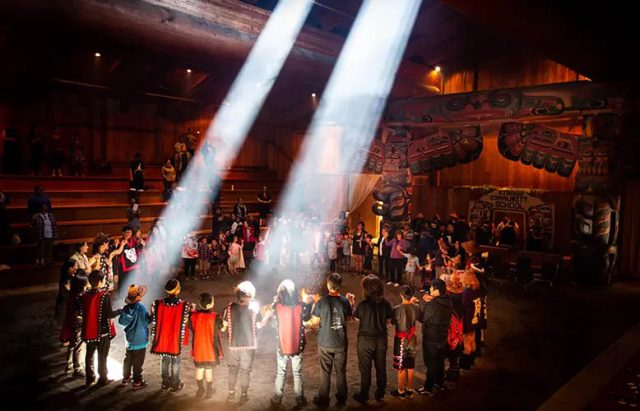 Six Ways to Effect Change:
Observe Orange Shirt Day: This annual event started in 2013 in Williams Lake, BC, and wearing orange is a simple gesture–a visual cue and an easy action to keep reconciliation alive. Share Phyllis Webstad's Orange Shirt Story with children.
Know the land you reside on: No matter where you travel in Canada or where one calls home, Canadians are on Indigenous lands. Knowing the land one lives on, and the impact of this is a personal responsibility. Educating oneself on the local Indigenous community and its current concerns, challenges, and successes is key, to support the rights, wellness, and economy of the Indigenous host.
Be a sensitive, respectful and grateful traveller: The relationship between Indigenous Peoples and Lands is sacred. Indigenous communities often welcome visitors, and share culture, despite the many challenges and barriers they face that non-Indigenous peoples do not. They are frontline responders to wildfires and natural disasters in their Traditional Territories and keep these commitments despite geographic barriers, diminished resources, health emergencies, and community grief. They protect forests and waters, plants, and animals, and travellers must be mindful of this when they step into these lands and communities.
Call to Action: The observance is a long-awaited response to Call to Action 80 made in the 2015 report by the Truth and Reconciliation Commission (TRC). It is a day dedicated to creating opportunities for Canadians to honour residential institution survivors, their families, and their communities. The observance of this day contributes to the education of public servants on Indigenous history, including residential school history and lived reality, rights, laws, and relations. Learn about how to effect change in media, policy, law, health, education, and administration through the TRC's 94 Calls to Action.
Learn and unlearn: The longstanding and unacknowledged reality and grief of Residential School Survivors, their families, and communities are now part of public awareness and education. Commemorate this reality annually by learning more, through various events highlighted below.
Donate to support residential school survivors and invest in Indigenous economies: Help to remove financial barriers to Indigenous wellness. Capital-based economies are a reality for those who have been harmed by and profited from colonial practices. Donations to organizations including Orange Shirt Society or Indian Residential School Survivors contribute to public awareness and programs for Indigenous wellbeing. Purchase Indigenous art. Eat at Indigenous restaurants. Tour with Indigenous guides. Stay at Indigenous accommodations. Invest in Indigenous.
Events to attend this weekend: