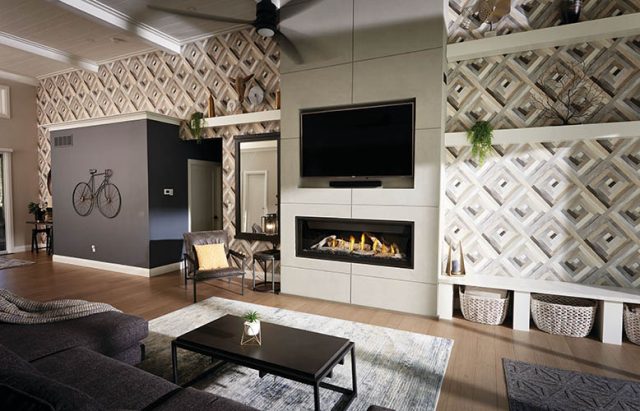 Napoleon's Power of Fire initiative — involving academic research conducted by the University of Alabama and the University of Illinois — found sitting by a fireplace helps reduce stress and lower blood pressure, which is an overall benefit to heart health.
Napoleon is a proud sponsor of Heart & Stroke and its work to improve the health of people in Canada by reducing risk of heart conditions, stroke and vascular cognitive impairment. From now until November 15th, Napoleon will be donating $25 from the purchase of select fireplaces in Canada to Heart & Stroke.
"Our Power of Fire promotion drives awareness of the link between stress, cardiovascular health and fireplaces," says Garry Scott, Vice-President of Marketing at Napoleon. "Chronic stress significantly impacts heart health, increasing the risk of high blood pressure and heart disease. Our research found that spending time near a fireplace contributes to better heart health, helping reduce the risk factors of heart disease and stroke."
Conducted in the fall of 2022, the Power of Fire research by the University of Alabama found that 15 minutes in front of a fireplace can significantly decrease both heart rate and blood pressure. The results indicate that a fireplace could be used as an effective in-home amenity to combat feelings of stress, which can lead to enhanced well-being and improved health.
There are undeniable links between heart disease, stroke and stress. Stress induces the release of hormones that lead to elevated blood pressure over time, it causes the heart to work harder and increase sugar and fat levels in the blood. These can all increase the risk of clots forming, heightening the risk of a heart attack or stroke.
"The findings of the Power of Fire research are encouraging and help people live healthier lives," says Garry Scott. "Diet and exercise are huge factors in reducing the risks of heart disease and stroke, and it also helps to relax and unwind at the end of the day beside a cozy fireplace."
The Napoleon Power of Fire promotion, running until November 15th, also includes an instant rebate of up to $750 on the purchase of gas or electric fireplaces.
While not directly impacting heart health, the University of Illinois portion of the Power of Fire research found an improvement in brain function and mental wellness when sitting near a fireplace. For more information, please visit www.napoleon.com.