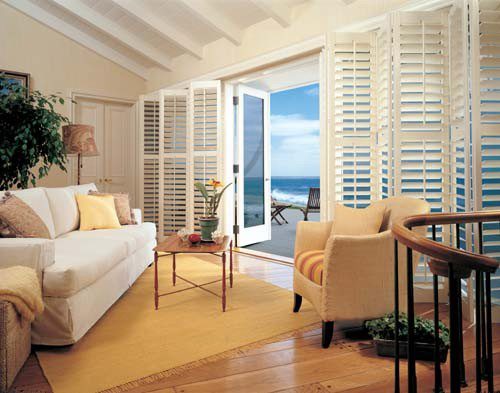 Sunrooms are so popular on the West Coast, especially in Victoria but the light can be intense, causing furniture to fade and damage artwork. Plantation style shutters are making a comeback!
A sunroom with plantation shutters is the perfect combination. A sunroom allows you the pleasure of bringing the outside in without wind, rain or the elements so you have a chance to enjoy the outdoors all year round. By installing plantation shutters, you not only make an attractive design statement but you add a layer of protection against the elements in your sunny space.
Plantation shutters can be mounted either inside a window or outside a window casing. They have adjustable louvres so you can regulate the amount of light and have some climate control. Plantation shutters will also reduce drafts.
There are several materials that may be used to create plantation shutters such as:
Old-fashioned hardwood
Polyurethane
Poly-vinyl and
A composite mix of a resin glue and sawdust to look like wood.
Wood shutters may be painted or have a stained finished. You can also purchase unfinished wood shutters and paint or stain them yourself. Either way, be sure to choose a weatherproof wood finish for plantation shutters that will stand up to the seasons for timeless, elegant appeal in your sunroom.
Poly plantation shutters have been perfected so much that it is virtually impossible to tell the difference between them and painted wood shutters. Poly is weatherproof, durable and cleans up easily. Finally, though composite is the least expensive, it is also the most risky with regard to durability because it combines wood chips and glue. Also, composite will swell up in moist environments, so it is not advisable in a sunroom.
Now that you have decided that plantation shades are the ideal way to finish off your sunroom oasis, you need to measure your windows to get the right size. Determine whether you want interior or exterior window casing mounts prior to taking measurements.
Once you know which plantation shutters you want, use a tape measure for accuracy to take the window dimensions. All heights and widths should be measured to an eighth of an inch. First, measure across the bottom, middle and top of the window and take the largest measurement of the three. Finally, you need to take an accurate measurement from the top of the window sill to the top of the window moulding. Once you have measurements, you are ready to order plantation shutters to beautify and protect your place in the sun!