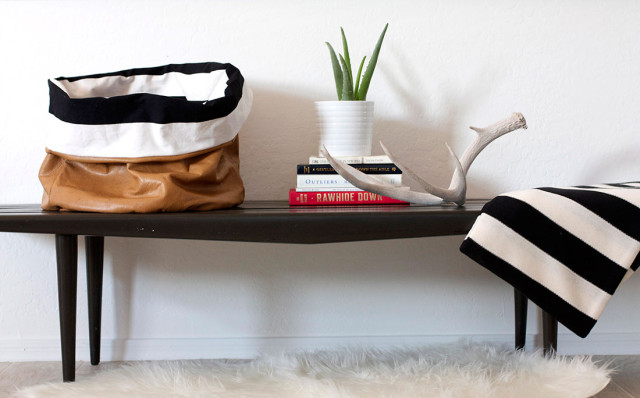 Just because spring cleaning is a seasonal chore doesn't mean it has to be boring. That's because you can stash your stuff in style instead of splurging on bins, baskets and boxes that don't fit in with your decor. Simply put your fabric scraps in the "keep" pile and use them to make a slouchy storage bin. That's just what we did for this project: We paired the striped fabric we had on hand with leather we yanked off of an old couch, and now our mess is quite the organizational masterpiece. Yours can be too!
Materials:
– 1 yard leather (at least 48 inches wide)
– 1 yard striped fabric (at least 48 inches wide)
– polyester jean finishing thread
Tools:
– scissors
– sewing machine
– ruler
– compass (optional)
Kristi Murphy is a lifestyle expert and the founder of KristiMurphy.com, an award-winning DIY blog where Kristi shares with her readers easy DIY ideas for a home, party, wardrobe, holiday, meal or wedding!